Fortnite: How to Get Headshots Easily for Week 13 Quest
Week 13 Epic Quests are now available for players to complete in Fortnite until the end of Season 7. This particular task wants players to get ten headshots, and while this isn't usually an easy feat, there is an easy method.
Once the Epic Quest has been completed, players will receive 30K XP. This is a decent chunk of experience that will earn Battle Stars, which can then be cashed in for Season 7 Battle Pass rewards.
How to Get Headshots Easily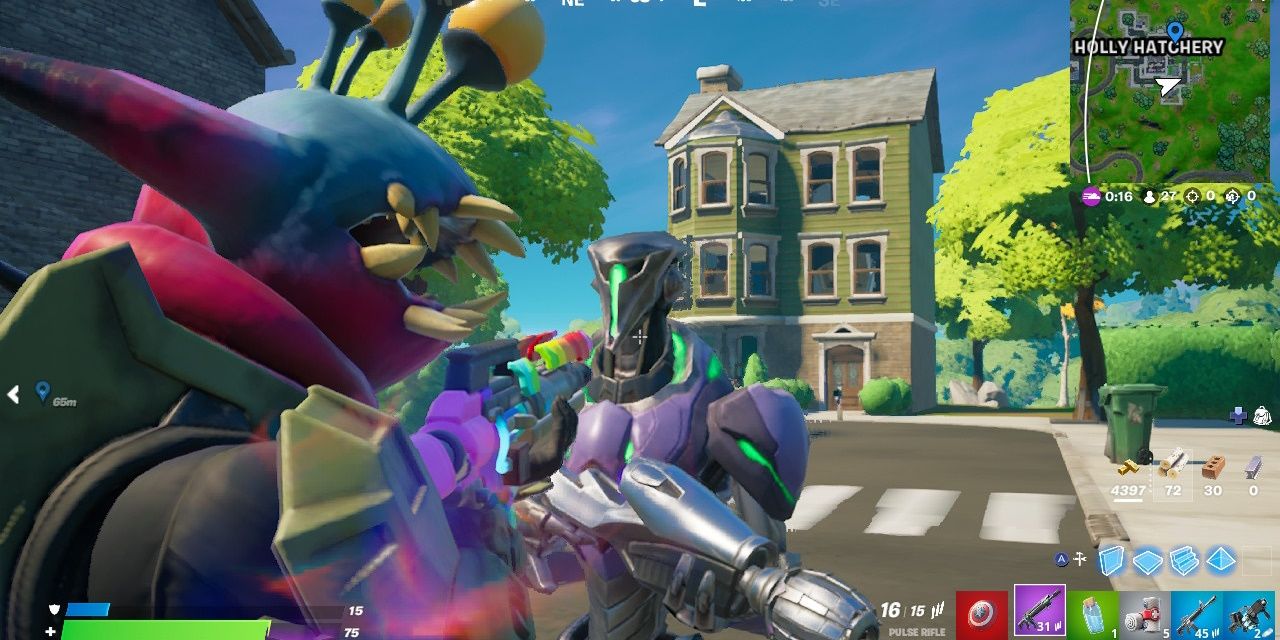 Landing headshots on enemy players can be tricky at the best of times, never mind attempting to do it ten times for a quest. Luckily, this mission can be completed by shooting wild and infected animals, IO Guards, and alien Trespassers. Finding these characters is a lot easier than battling opponents, and they can be consistently found in the same areas:
IO Guards are found at IO Bases, with the most at Corny Complex
Wild Animals can be found in wooded areas and farms
Trespassers can be found in Spaceships and at Holly Hatchery
The quickest way to get ten headshots to complete this Week 13 Fortnite Quest is to land at either Holly Hatchery or Corny Complex.
Easy Headshots at Holly Hatchery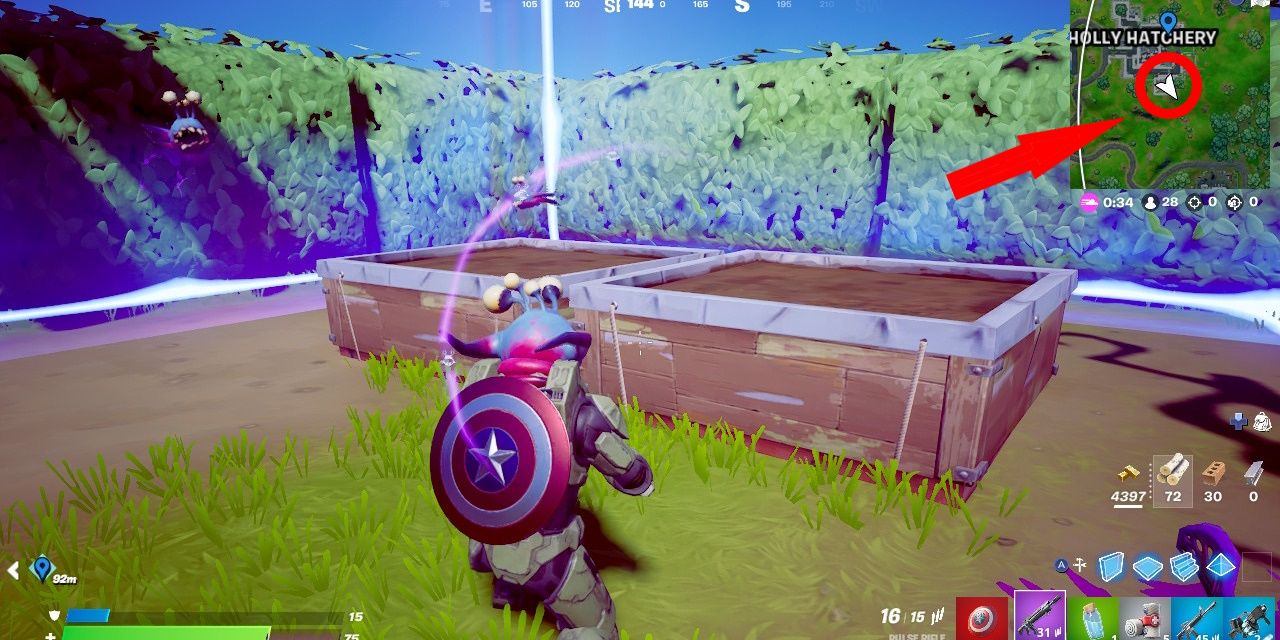 Using the Trespassers as target practice is the safest and most reliable way to get a headshot in Fortnite during Season 7. This is because attaching a Parasite to the head will make the aliens non-hostile towards players until they take a lot of damage. It's also not a very popular landing spot, so players can usually take their time to loot the houses.
An alien Parasite can quickly be picked up by going to the house in the southeastern corner of Holly Hatchery, in the purple Alien Biome. Green eggs will be visible in a patch of dirt, and a Parasite will burst from one and attach to the head when players get close to one.
After this, the nearby house can be explored for a weapon, and there is sometimes a Trespasser roaming about inside. Players can take the time to line up a headshot as the alien NPCs won't shoot until badly wounded. There are at least five Trespassers around Holly Hatchery, and multiple headshots can be achieved by shooting at each individual.
Easy Headshots at Corny Complex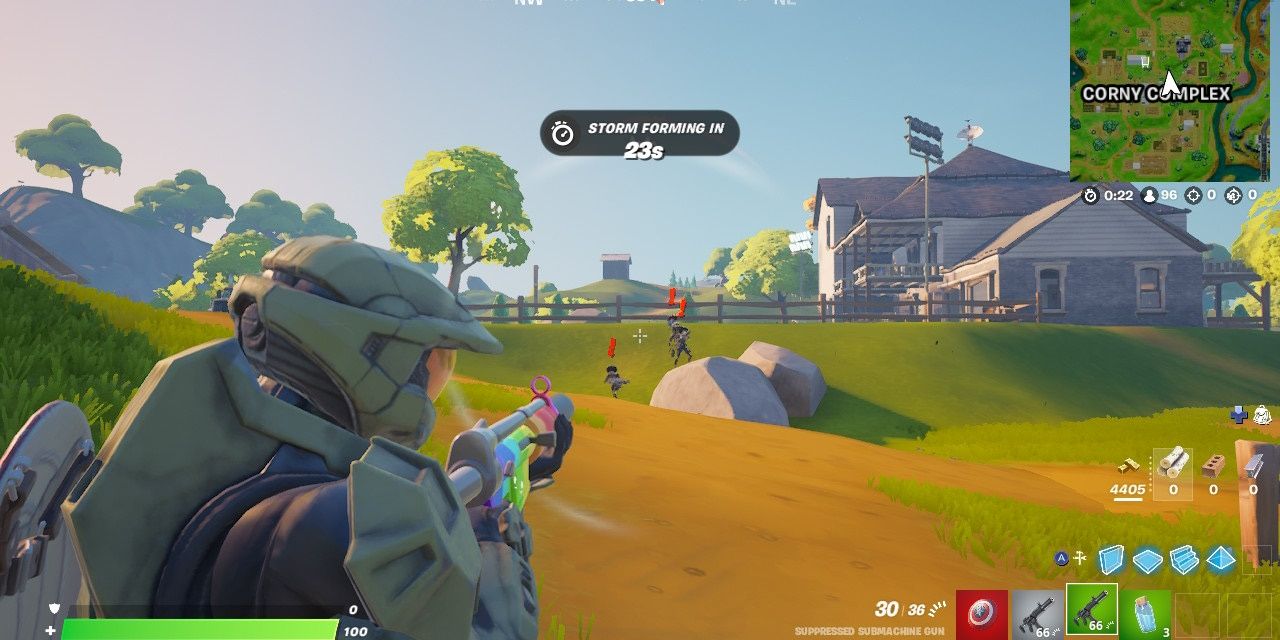 A similar method can be used at Corny Complex to get headshots on IO Guards and the Sloane Clones, but it is a riskier venture as they are very hostile, and there is no way to trick them like there is with Trespassers.
However, there are a lot more NPCs here, so there are more chances to successfully land a headshot. Even if an early elimination is met, it's very easy to quckly land again and finish the quest. It's also a great place to pick up IO weapons and get damage for the current Legendary Quest.
This Epic Quest to get ten headshots will be available until the end of Fortnite Season 7.
Fortnite is available for PC, PS4, PS5, Switch, Xbox One, and Xbox Series X|S.
Follow Us Here Too :
OVOMusic | Best Music Streamer
BestCardGames | Card Games Tutorial and Games News
OVODrama | Nonton Korea Sub Indo
OVOMovies | Nonton Film Sub Indo
OVOAnime | Nonton Anime Sub Indo