Eastward: How Long to Beat
Indie Developer Pixpil and Stardew Valley Publisher Chucklefish released Eastward on September 16th. The game takes place in a dystopian future where toxic clouds forced most of humanity to flee underground. The pixel-art RPG adventure follows expert miner John and a mysterious young girl named Sam as they explore the dangerous but verdant world on the surface.
So far, the game's seen an overall positive reception from critics and fans alike, enjoying an 85% on Metacritic and a Very Positive user rating on Steam. However, not everyone has time to dive into a long game, no matter how good it is. As such, many are wondering how long Eastward takes to beat.
How Long Is Eastward?
The answer to that question is naturally going to vary significantly depending on the player. Fortunately for those with tight schedules, Eastward isn't a hundred-hour epic that requires months of commitment. However, neither is it a game that players will hammer out in an afternoon. Instead, it should take most players around 30 to 40 hours to complete a playthrough of Eastward. Many would agree this is a reasonable length for a story-driven game, putting it in the same general ballpark as the classic JRPG EarthBound.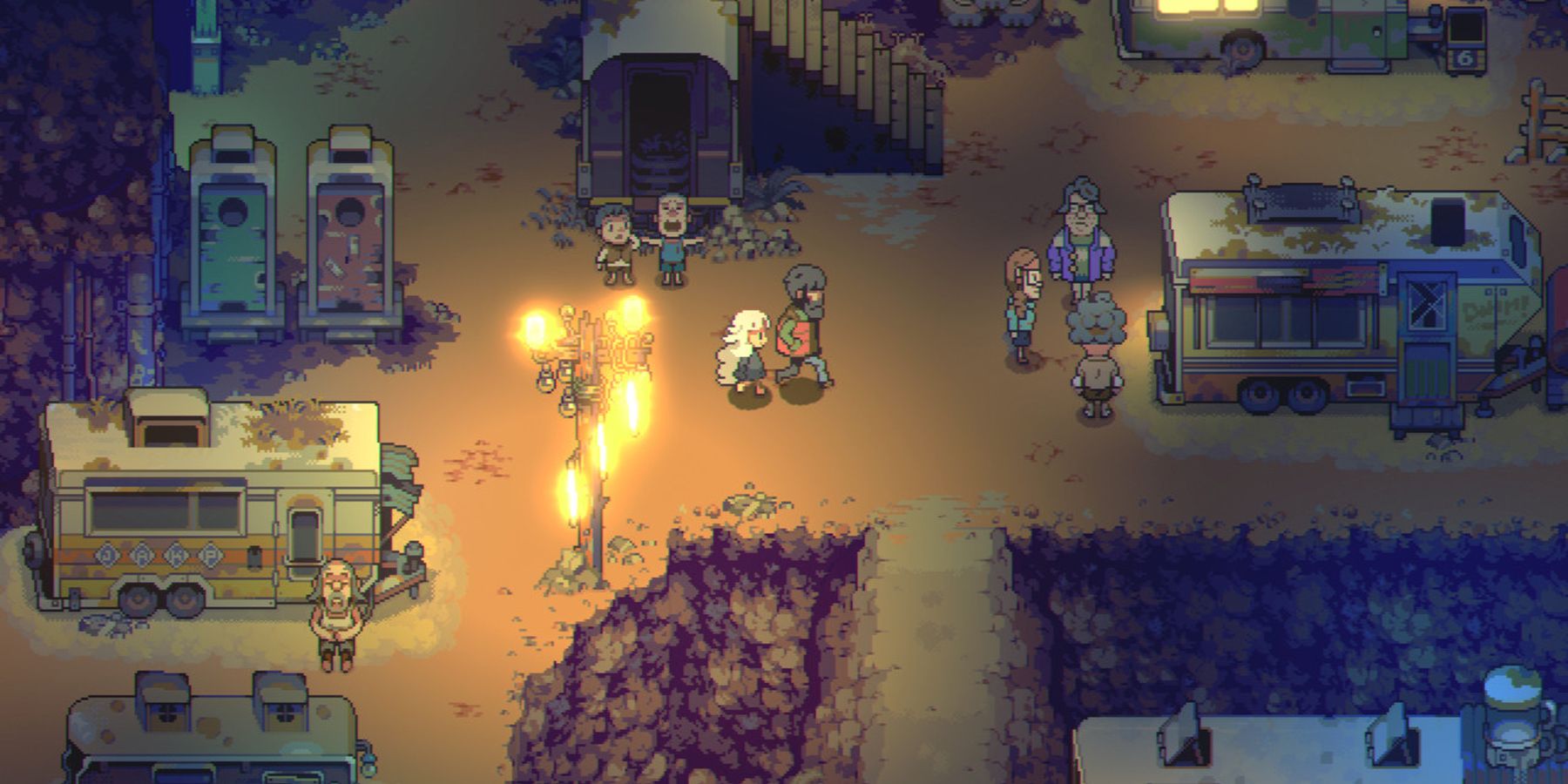 At least some of the concerns about the game's runtime seem to come from Eastward sharing a publisher with Stardew Valley. Considering Stardew Valley can take up to 200 hours for 100 percent completion, that seems like a reasonable concern. However, both games aim to offer a very different experience. Stardew Valley drew its inspiration from the early Harvest Moon farming sims. Eastward meanwhile, draws from classic RPGs like the before-mentioned EarthBound and the 2D Legend of Zelda games.
That's not to say Pixpil didn't bring its own touches to the pixel-art RPG. Sure, the game absolutely wears its influences on its sleeves, containing references to the classic JRPGs that it spiritually succeeds. Still, the game has its own unique personality, which comes across in Eastward's quirky characters and art that captures its uniquely cheery take on a post-apocalyptic dystopia. Additionally, Eastward is a bit more adult-oriented than something like The Legend of Zelda, with the game's Steam page showing a content warning for adult humor and themes.
Eastward's 30 to 40 hours of gameplay are also relatively densely packed. The game has a lot of dialogue, and many reviews talk about its tense boss fights and many challenging puzzles. So, while it might not be a spectacularly long game, Eastward certainly seems to use its time well.
Eastward is out now for Nintendo Switch and PC.
Follow Us Here Too :
OVOMusic | Best Music Streamer
BestCardGames | Card Games Tutorial and Games News
OVODrama | Nonton Korea Sub Indo
OVOMovies | Nonton Film Sub Indo
OVOAnime | Nonton Anime Sub Indo